I split my time between the United States and Italy. In Italy I have a place in the medieval hill town of Ripatransone (known as Ripa by the locals) . If I was to share a photo that showed the beauty of Ripatransone, one would expect me to share a shot of one of the panoramas, which would make sense, because the views to the sea, across the vineyards and olive groves and three mountain ranges are some of the most beautiful in the world. One might also expect me to share a photo of the piazzas in the historic centers. After all, the Italian travel club named Ripatransone as one of the most beautiful medieval towns in Italy. But I would share something different…
The visual beauty of Ripa is awe inspiring to me, and every day that I am here, I have trouble actually comprehending it. But when I am away from Ripatransone, the visual beauty is not what I miss. When I am away from this place, it is the people, the culture, the art, the food and the wine that I really miss. If I try to think of a single photo that shows the beauty of Ripatransone, it would be this one. Not shot with my professional photo equipment, but only my phone.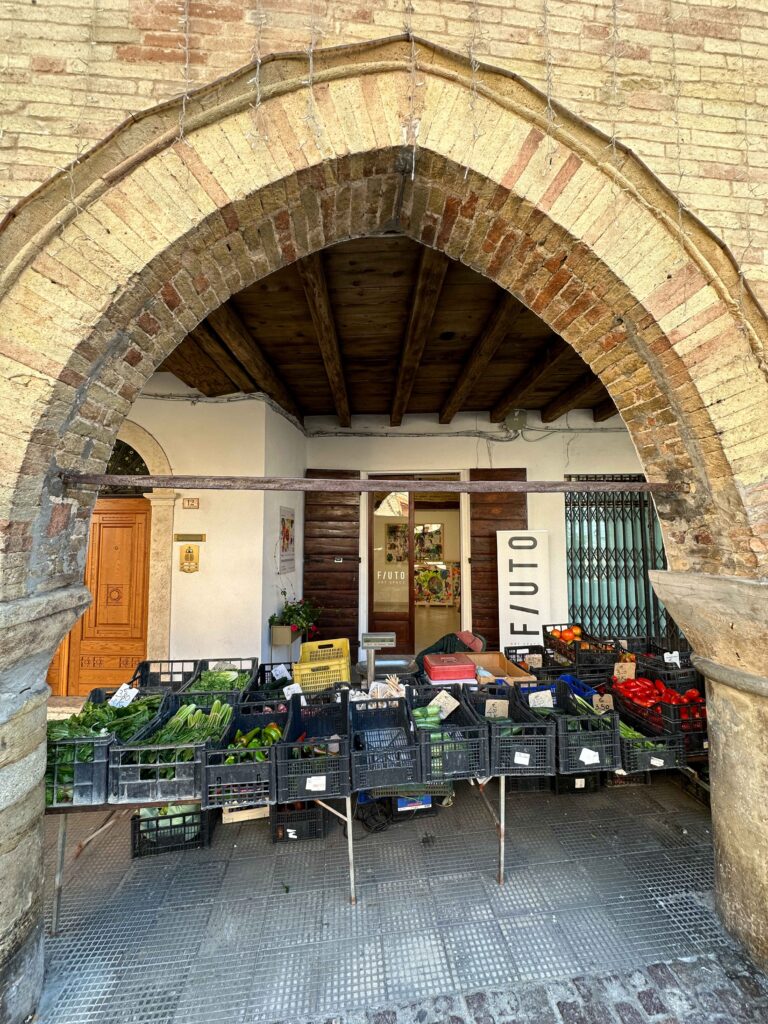 In one of the three main piazzas of Ripatransone, there is a beautiful early medieval portico. A few times a week a local vegetable seller sets up a portable table and sells vegetables that he grows just a few hundred meters away. The vegetables are always just-harvested fresh, delicious, and considerably less expensive than the bland industrial produce I often get in the United States.
Directly behind the vegetable table is the Fiuto Art Space. It is a single room about the size of a garden shed with electricity, but no plumbing. The the medieval brickwork is beautiful, but it is, by all accounts, a space that would be worthless for anything more that a storage space. Alex Urso, a young man from Ripa transformed that "useless" space into a vibrant art gallery. Alex curates single artist shows of contemporary artists in the gallery, and the openings become a gathering place for the art community (and those that support it), and that "storage space" is becoming a new focal point for contemporary art in the region. At a Fiuto art opening, immersed in a welcoming creative community and drinking a Ripano wine…. it is hard to think of anything that better encapsulates what I love about Ripatransone and Le Marche.
The rest of the portico is filled out by a wonderful artisan bakery, and a casalinga store, selling pots and pans, cleaning supplies and the like at great prices.
Under this portico in Ripatransone is so much of what is wonderful about this place. A simple architectural gem from hundreds of years ago where the Ripani are simultaneously preserving the past, living daily life, and creating a future.
Panetteria – Pasticceria Alamprese Michele