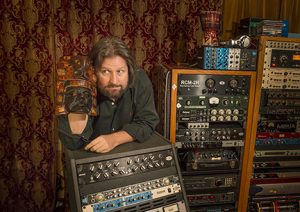 Ronan Chris Murphy is a multi-genre record producer, engineer and artist that works around the world.
If there is one word that sums up Ronan Chris Murphy's musical career, it is diversity. Ranging from over a dozen albums with progressive rock legend King Crimson to work with YouTube sensation Tay Zonday, from Norwegian art metal pioneers Ulver, to shock rock legends GWAR to pop superstar Jamie Walters or iconic Greek vocalist Alexia (Vassiliou), Ronan's work spans the globe both figuratively and literally.
Ronan also has extensive credits in non-album work. He was a one-time audio lead for Microsoft for several online products and has worked on multi-million dollar video games such as Mafia III and Assassin's Creed Brotherhood. He pioneered many concepts in audio education (he was the world's first audio blogger), and presents workshops and educational events around the globe, including Recording Boot Camps, The Game Audio Retreat, Audio Bloggers Live and Recording Fest.
He got his start playing in the early Washington, DC punk scene in a band called Freak Baby (which was also the first band of Dave Grohl, who joined after Murphy left the band) and he went on to play in the 80's scene that would later be dubbed grunge or alternative. He shared the stage with the likes of The Flaming Lips, Henry Rollins, Death Angel, Die Kreuzen, Iron Cross, Dinosuar Jr., All and GWAR.
By the beginning of the 90's, Ronan made the shift to production and engineering full time, working in Boston with a strong emphasis on hip-hop, electronic music and Americana, including studio work with the great Martin Sexton. While in Boston he also studied synthesis part-time at the Berklee College of Music, where he was the head of the Berklee Digital Audio Group. A few years later he was invited to be a producer/engineer in residence at the Banff Centre for the Arts in Canada, focusing on jazz, classical and experimental music. While there he worked with artists such as Chucho Valdes y Groupo Irakere, Los Muñequitos de Matanzas, Norma Winstone, Kenny Wheeler, Joan Labarbara, The Banff Festival Orchestra and Kaija Saariaho. During this time Ronan also worked as a producer of the International Computer Music Conference.
After leaving Banff, Ronan relocated to Seattle where he worked as an Audio Lead for the Microsoft Network, working on the team that helped pioneer synchronized audio, MIDI and animation on the Internet. After a year in the corporate world, he went back to music production and engineering and found himself immersed in the world of progressive rock and bouncing between the U.S. and England for several years. During this time Ronan worked on over a dozen albums with King Crimson, as well as albums with the likes of Steve Morse, Terry Bozzio, Steve Stevens, Nels Cline, Tony Levin and The California Guitar Trio, and working on the crew of the G3 tour with Robert Fripp Steve Vai and Joe Satriani (as a tech for Robert Fripp).
Having musical interests far beyond "prog," he continues to work with artists from all around the globe in virtually all styles of music. Some highlights include producing "Rustic Living for Urbanites" for Pete Teo, which is widely considered one of the most important albums in the Malaysian singer/songwriter scene, spending 3 months in the top 10; recording tracks for legendary Greek singer Alexia, which reached #1 on the Greek jazz charts; and recording "An Ode to the Umbrella" for the Icelandic art/pop band Soundspell, a top 20 album in Iceland. His recent production work with GWAR debuted in the Billboard top 50. Ronan produces, mixes and masters for clients from around the globe at his Veneto West studio in the mountains just north of Los Angeles, in addition to traveling to work with various artists around the world on a regular basis.
In addition to producing and engineering full time, Ronan has always been an avid educator. In 2003 he launched Recording Boot Camp®, which helped pioneer the concept of the "one week recording school," presenting workshops around the U.S. and Europe, including the "Italian Villa Boot Camp" in a villa-based studio in North Italy. The business presents in-person Recording Boot Camps and Mixing Boot Camps, and a range of online courses.
When not producing or performing for other artists, Ronan works on his own music. He performs ambient guitar concerts in venues as diverse as theaters in Paris to swimming pools in Malibu. He is part of the Experiments guitar duo "Lives of the Saints", a collaborator with legendary Greek singer Alexia, and he is working on his own album featuring Tony Levin, Mike Keneally, Pat Mastelotto and Terry Bozzio.
He has been a lecturer or panelist at SXSW (South by Southwest), NXNW (North by Northwest), The Action Poetry Festival, the International Organ Festival, The Berklee College of Music, The TAXI Road Rally, The Musicians Institute, 2NMC, The Society of Composers and Lyricists, the International Computer Music Conference and many others.
In 2009, Ronan launched Ronan's Recording Show, which over the years has garnered millions of views.
Ronan's consulting business has a wide range of international clients ranging from hobbyists in home studios, to major label artists with pro studios, as well as houses of worship, academic institutions, and pro audio manufacturers.