Diego Lopez (1985-2019)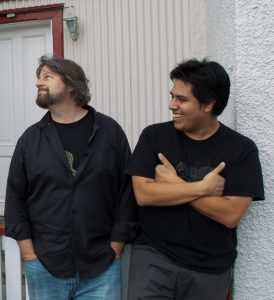 I knew I was going to hire Diego Lopez to work with me before I heard anything he had ever recorded or mixed. He came on as a volunteer intern when I was relocating my studio to Santa Monica about 8 or 9 years ago. It was a tough move that had a lot of challenges, including some things that would have pushed most people over the brink. Regardless of how tough things got, Diego kept his cool, stayed level headed and served the work. He never complained. You can teach people where to place mics, and how to use studio effects but you can't teach character. I knew he was the kind of person I wanted working along side of me when things got crazy in recording sessions. I was blessed to have him working by my side for many years.
Thankfully, in addition to the right temperament, he also had a great ears and taste and not long after starting work as my assistant, he took over the engineer's chair and worked as my engineer on countless projects I produced over the years. Our work gave us the privilege of being part of lots of wonderful music together and he was able to come to work with me on music in lots of cool places including Cuba, Iceland, the Faroe Island and even his beloved Oaxaca Mexico, which I fell in love with as well. In addition to making records with me, Diego helped with a lot of my educational workshops and online training including writing and producing his own Spanish language recording course that we as rightly very proud of. Diego also developed his own clients. Not long before he got sick the leader of one of Diego's all time favorite bands, La Barranca asked him to come to Mexico City to work on a project, which was probably the proudest moment of Diego's career.
Diego got a very aggressive form of bone cancer. After a long stretch of treatment they realized that it was highly unlikely that he would survive it. Even in one of the most devastating and stressful of situations imaginable, Diego still managed to keep his cool and he seemed to be at peace with the realities of his situation. The day before he died, I got a text from him that said, "Good news is I personally feel fine and I'm I good spirits". In my last conversation with him, he spent more time talking about the well being of others instead of his own plight. He was cool until the end.
One of the dreams of people that write and record music is that the work we do will live on beyond us. Despite his far too short life, Diego Lopez helped bring a lot of great music into the world. His work will live on and he lives on in all of it. I am honored to have been a part of it with him.
Ronan Chris Murphy